T. Herman Keahey (oboist/musicologist) and Delores J. Keahey (pianist/musicologist) both received training at the Yale School of Music and the University of Texas at Austin. They spent the next four decades involved with university life as professors, performers, researchers and administrators, including lengthy stays at the University of Calgary and the University of Manitoba. During this time they won numerous awards and published a number of prestigious works found in libraries worldwide.

After retiring in the early years of the present century, they founded Classical Winds Press, with an initial focus on masterworks for the oboe that have been too much ignored in recent years. They continue to methodically publish works from a dauntingly long list which they have compiled. While they performed widely throughout their professional life, active performance is no longer a part of their existence.

The Drs. Keahey reside in Tucson, Arizona where they work as "patient instructors", training students of the U of A Medical Faculty. They have four widely scattered children and seven grandchildren, and they travel whenever Delores can tear Herman away from his Macintosh computer.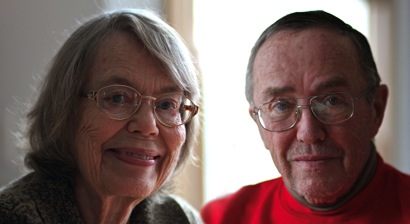 photo November 2009, by Alan Keahey